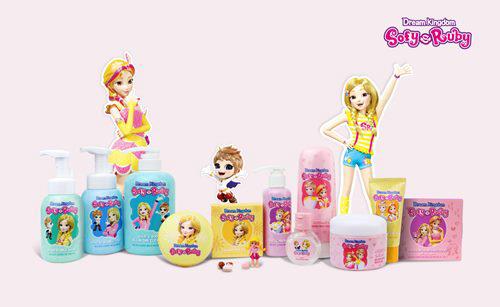 ▲(Corp.)Choirock Contents Factory, contents R&D company(Represent Choi Jong-ill)
has shown 'Dream Kingdom SofyRuby' kids cosmetics for girls after animation and toys on 28th.
3D Animation 'Dream Kingdom SofyRuby',
Ruby and his friends have recovered the vanished kingdom and rescued the Prince of Spinel from the Shard Wizard,
who had become enchanted and childish.
It is a domestic girl animation content that is popular among 4~10 year old girls to be produced as a musical.
Cosmetic 'Dream Kingdom SofyRuby' is total 10 compenent such as Facial Bubble Foam,
Hand Bubble Wash and Hair&Body all in one cleanser etc, cleansing line and
Watery Jell, Facial Fresh Lotion, Moisture Cream etc, skin care line and Calming Sun Cushion, Fun&Fun Color Sunstick.
As a product that children use directly on their skin, they only contain mild ingredients classified as safety grade of EWG
which is gaining public confidence at home and abroad.
Especially, SofyRuby's "Green Defense System",
which protects not only the kid's skin but also the skin of the whole family with 10 plant extracts,
was developed and applied to all products.
Excluding parabens and artificial fragrances that can be harmful to the skin of fragile children.

SofyRuby cosmetics's representative products is 'Facial Bubble Foam' and 'Facial Fresh Lotion'
'Facial Bubble Foam' is bubble foam like fresh cream cleans the waste in pores cleanly and no tighten after wash up.
Seven kinds of synthetic fragrance and harmful substances that cause skin trouble are not added,
and it can be safely used even through stimulation test.
'Facial Fresh Lotion' is high moisturizing lotion that included rosemary leaf oil, avocado oil and olive oil.
Its protects the dry skin by creating moisture barrier on the skin that makes healthy skin.
Not the more, it didn't added nine kind of synthetic fragrance and harmful substances, through stimulation test too.
SofyRuby cosmetic brand director said,
"It is a cosmetic product that is created responsibly by the company that developed the brand.
It is not only by licensed products that depict popular characters but also by a high understanding and consideration of girls.
I hope to help girls learn proper cosmetic habits to wash, apply and protect themselves."
SofyRuby cosmetics are available at major online shopping malls such as Coupang, 11st and Gmarket.
Source : Yonhap News / Date Created : Nov.28th, 2017.