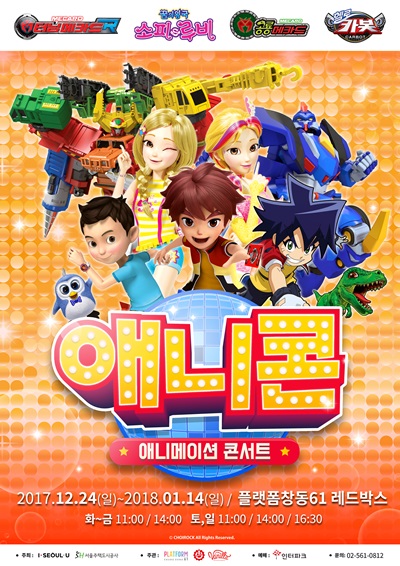 The kids concert 'Anicon' will be on the Red Box stage of Platform Chang-dong from Sunday,
December 24 to January 14 next year, starting from the preview on Thursday, December 21.
Popular animation, Hello Carbot, SofyRuby, Turning Mecard and Dinosaur Mecard are gathered together
to meet the kid's audience.
The highlight of the animation concert is to direct the animation world in front of the eyes with the kid's audience.
A 'Bubble' on the stage will make the seat into a blue sea, and kid's audience will gather their strengths
to carry a 'large balloon' and fly a paper plane with a dream.
Audience can enjoy a concert with a LED bracelet that changes color to match the rhythm of exciting music.
Kids Zone, Family Zone and Adult Zone are separated for the kid's concert.
The Kids Zone is set as a kid's seat and there is a kid's space where you can experience a free event near the stage.
Parents who have pre-registered kid's tickets in Kids Zone can register for adult tickets and
special seats are arranged on the 2nd floor so that kid's audience and stage can be seen at a glance.
For safety reasons, children are not allowed in the Adult Zone,
and the Family Zone is intended for young children and their families to enjoy a concert alone with
their guardian and children's companion.
Source : Sports Korea / Date Created : Nov.22th, 2017