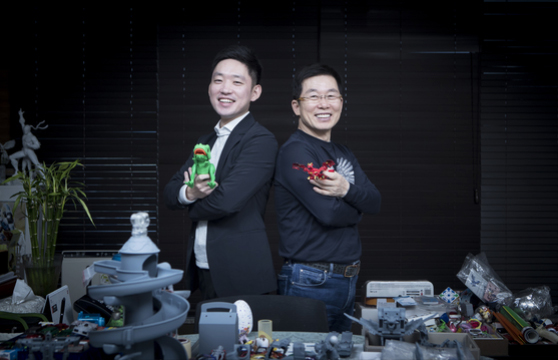 ▲'Toy Master' Choi Shin-kyu(Chairman of CCF,right) and Choi Jong-ill(Represent of CCF,left).
* (CCF=Choirock Contents Factory)
Now is the time for 'Marvel characters'. Not only Avengers, as well as stories of heroes such as Hulk and Thor etc.,
are leading the global box office. If you get marveled, its hard to come out the world of Marvel.
The man who is called 'Toy Master', SONOKONG's founder Choi Shin-kyu and his son Choi jong-ill, challenged Marvel.
It is an ambitious plan to become a "Korean Marvel" by collecting the characters of native toys developed by them
​and creating a Korean version of the avengers someday.
​Represent Mr. Choi is currently leading the content research and development firm,
CCF and chairman Mr. Choi is focusing on animation production.
Chairman Mr.Choi said, "In the meantime, most of the Korean toy character business is to buy and distribute and
sell overseas characters.", "For the global competitiveness of Korean character culture,
Korea should have content companies like Marvel."
Their's self-esteem has been prided on by the fact that there are not so many characters developed by them.
In addition to the Top Blade, which have won sales of KRW 1 trillion worldwide in 2001,
the company's successful works include Hello Carbot (2014), Turning Mecard (2014) and Sofy Ruby (2016).
Chairman Mr.Choi was named a new priest and received the Presidential Commendation in 2003.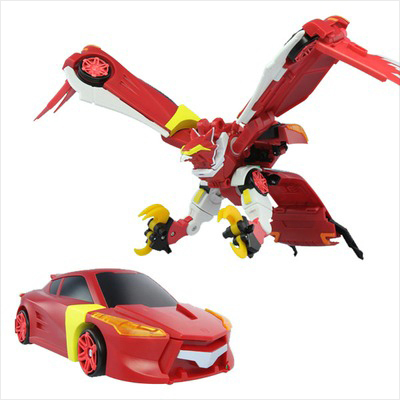 ▲Choi's representive character 'Turning MeCard'. World's first instantaneous transformation robot toy.
Chairman Mr. Choi will be working as the general director next year and will start producing animations for
the cartoon character Hello Carbot.
In 2019, he will make a live-action movie. It is my intention to export each of the characters with
the story to overseas and to announce the brand,
and ultimately to build a Korean-style 'Avengers' world view only with Korean native characters.
Choi said, "Marvel was able to create the world of Avengers as it is now, because it has a lot of characters." and
"We are creating not only the characters we have acquired so far, but most of the profits by investing in character development."
It is not that Choi was interested in toys from the beginning.
From the age of 13, he learned molds and casting techniques and made various industrial parts.
Then, when I put the coin into it, I turned it into a vending machine with toys and got interested.
In the end, his first success in establishing a toy company in 1987 was a small, non-toxic sticky.
Choi said, "I did not learn anything, so I piled up books on chemical materials, and I went to Namdaemun Market
in search of materials." and "When I mixed all kinds of materials, strange smell shook me,
and I almost got kicked out by my landlord.
In additon I had to develop the winter jacket until I could wear it until summer."
It was natural for represent Choi, who grew up watching him, to stick to the toy.
"Before I entered elementary school, my dad gave me toys and told me I was uncomfortable,
and my dad reflected them on toys," he said.
The world's first instantaneous transformation robot, 'Turning MeCard,' developed by Choi in 2014, was in fact the son of Choi.

Represent Choi said, "As a child, my favorite toy was a transforming robot,
so I decided to incorporate a game that can be played on a transforming robot.".
At that time, picked up all the board games on the floor, studied it overnight,
and developed a game combining the transformed robot and the card.
They soon release a new dinosaur transformation toy "Dinosaur MeCard".
Chairman Choi said, "Still, the popularity of Turning Mecard is high, but if I stay here, it will eventually be culled."
"I do not think Marvel's performance was done in a day. Since my childhood, my father, who has seen Marvel's comic book,
grows up and shares his advice to his son. I do not just make toys, but after 20 or 30 years,
I will make memories of my father and son together, and make cultural contents representative of Korea," he said.
Source : Joongang Ilbo / Date Created : Nov.21th, 2017.