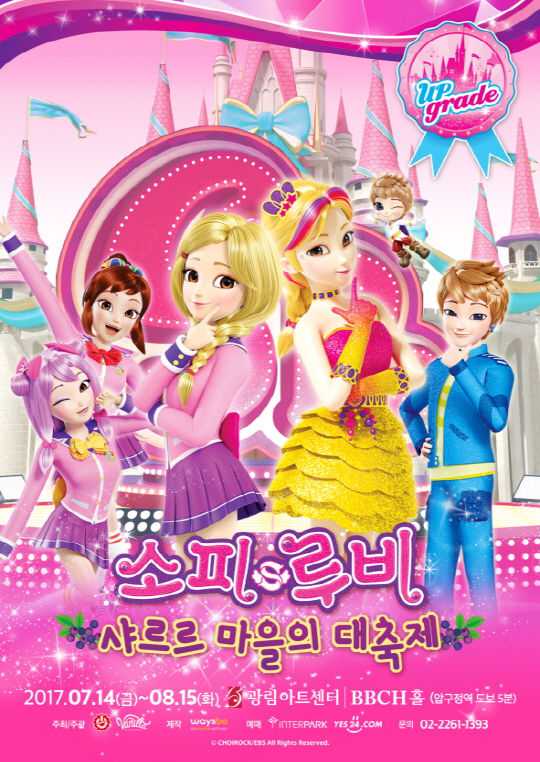 In Gwangrim art center BBHC hall, Musical 'SofyRuby – Grand festival of sharr village' has coming July 14th.
'SofyRuby' performed in the same place from April 21st to May 21st will visit children's audiences
once again during summer vacation.

It will return to the stage with upgraded and abundant performance, while retaining the spectacular stage set,
the choreography that shakes the shoulders, and the exciting songs that revolve around the mouth.
The biggest upgrade is the breathing with the audience. Through the relay camera, the audience is reflected on
the large LED panel on the stage and enjoys interesting recreation. Also in order to make your dream come true by
writing on your postcard, that will be surprised by the special effects.
In the lobby of the theater on the lawn, there is a Ruby's camping car photo zone and SofyRuby's main logo 'SR' photo zone.
SofyRuby is a 3D animation that has been supported by female children, which started broadcasting on EBS
in August 2016 and continued to show high ratings.
Accidentally, get the magic book that meet the little prince and get to the missions of the girl, and the magical prince
who is about to return to the original shape of a variety of professions, and is carrying an episode of the leading mission.
At the time of the musical, there were praises of the actors, performances and choreography of the actors
who were almost similar to the animation.

The music video of the opening song "Twinkle" and the ending song "Missed" edited by the live musical scene
continues to increase by exceeding 400,000 views on YouTube, and its popularity continues until the end of the performance.
On June 1, tickets will be available through Interpark and Yes24, and you can benefit from various types of tickets,
such as early booking discounts, re-viewing discounts, and mom and dad discounts.

It will be performed at the Gwangrim Art Center BBCH Hall until August 15th.
Source : Sports Chosun / Date Created : Jun.11th, 2017