SOFYRUBY WISH DIARY
The Korean Toy Awards was held on February 20 at the Best Western Premier Guro Hotel Lily A Hall.
The 3rd Korea Toy Awards of is sponsored by the Korea Toy Association, Ministry of Commerce, Industry and Energy,
the Korea Creative Content Agency, the Korea Design Promotion Agency, and the Seoul Industrial Development Organization.
Lee Hyun-joo(Director of Korea Toy Association), Park Se-one(CEO of Xosoft),
and more than 100 of people from toy industry were attended.
Chairman of Korea Toy Association, Lee Byung-woo said,
"We will continue to be a stepping stone to widen the gap between the two industries,
and I hope Toy Awards will become a revitalization of the stagnant domestic toy industry."
The Toy Award, which has been started from 2015 and celebrated three times this year, is an award ceremony
for promoting the excellence of Korean toys and for building a foundation to become a global toy product.
In the 3rd Toy Awards, 50 companies participated in the competition.
Seven experts from the related industry including toy, character, broadcasting, distribution, certification authority,
and professor selected 20 excellent works.
The 3rd Toy Awards, the Minister of Commerce, Industry and Energy, was awarded the 'SOFYRUBY Wish Diary' of CCF.
Launched in October 2016, 'SOFYRUBY Wish Diary' is a popular christmas toy for girls.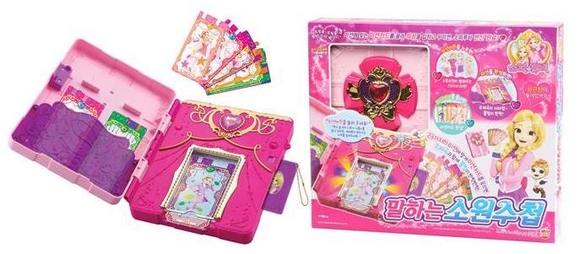 * SOFYRUBY Wish Diary received the Minister of Industry and Commerce Misister's Award. / Korea Toys Association
The Chairman Prize of Korea Institute of Content Promotion is
the 'Series of Magic Thousand-Character Classic Smart Toy' of Xosoft,
the Korea Toy Association President Award is the 'A Bright Chattering Child' of Mimi World,
the Seoul Business Agency Representative Award is the'Dino Core Ultra Debuster Tyranno", of Tuban did.
Source : IT Chosun / Date Created : Feb.20th, 2017